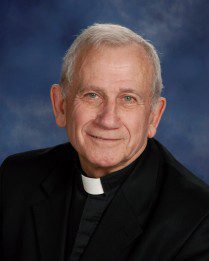 During his 50 years of priesthood, Monsignor Charles H. Rowland, PA, JCL, has committed himself to serving in whatever way he is asked.
The Charleston native has led parishes in every region of the state except the Piedmont Deanery.  He has served as Chaplain for the Sisters of Our Lady of Mercy, taught at Bishop England High School, and held dozens of administrative roles in the Diocese of Charleston, ranging from early assignments as Director of Diocesan Cemeteries and Evangelization to Judicial Vicar for the Tribunal.
Through all of these accomplishments, he has maintained an easy-going sense of humor and approachable personality that has endeared him to parishioners of all ages.  A crowd of 480 people turned out May 8, 2010 at Holy Spirit Catholic Church on Johns Island  for a special celebration of Monsignor Rowland's 40th anniversary with a Mass celebrated by Bishop Robert E. Guglielmone and a dinner reception outside.
"Here we have a man of extreme generosity who has said 'yes' over and over again," Bishop Guglielmone said during the homily.  "The life of a priest is taking care of people who have been committed to his ministry, and I have heard stories of Monsignor Rowland wandering halls of hospitals trying to find parishioners.  Many people have benefited from a man who trusted in the Holy Spirit and continues to minister to God's people."
He is one of nine children of the late Carl J. and Gertrude Kanapaux Rowland, and grew up in downtown Charleston. Monsignor Rowland attended Sacred Heart Church on King Street and graduated from Bishop England High School.
"We were always well acquainted with our parish priest when I was growing up," he said.  "They always knew what you were doing and shouldn't be doing, they always kept track.  We were known by name, and if you did something wrong, it was already known by the time you got home!"
He considered a vocation to the priesthood while he was in high school, but completed undergraduate work at the College of Charleston first.
He then joined the U.S. Air Force in 1958 and served four years in Sosterberg, Holland.
"When I came back, I said, 'Now you either have to fish or cut bait.'  It was then I made the final decision to become a priest," he said.
He attended St. Mary, Kentucky and was ordained May 16, 1970, by Bishop Ernest L. Unterkoefler at the Cathedral of St. John the Baptist in Charleston, S.C.
From the beginning, he was given multiple assignments.
"I was ordained one day, and the next I received my first assignment as vice chancellor of the diocese," he said. "Right from the beginning in this diocese you were wearing multiple hats.  Every day brings a new challenge.  The biggest is not only proclaiming the word of God among God's people, but living it out so that you preach not only by word but by example."
His parish work included assignments as associate pastor and rector at the Cathedral, and the pastor of St. Mary Church and Our Lady of Mercy Church in Charleston; Our Lady of Peace Church in North Augusta; Our Lady of the valley Church in Gloverville; St. Joseph Church in Columbia; and Our Lady of Good Counsel Church on Folly Beach.
Other administrative positions have included vicar general, a member of the college of consultors and canonical administrator of Cardinal Newman High School in Columbia.
Since 2007, he as been pastor of Holy Spirit and said he enjoys work as a parish priest because it puts him directly in touch with people.
"Each parish is unique, and each region of the diocese is unique." he said.  "In a smaller parish, it's more intimate and you get to know the families very well.  In a larger parish, it takes a little longer, but if you spend your time in service to the people you get to know them very well, most especially in times of need and in times of happiness."
Over the years, he's been willing to take on unusual challenges to help enhance parish life.  During his 15 years at St. Joseph in Columbia, he often helped with shag and line dancing classes for seniors.
"The best thing about priesthood is that it is a unique gift given by God," he said. "It's a gift to serve and love God's people."