The sacrament of Matrimony signifies the union of Christ and the Church. It gives spouses the grace to love each other with the love with which Christ has loved his Church; the grace of the sacrament thus perfects the human love of the spouses, strengthens their indissoluble unity, and sanctifies them on the way to eternal life.(CCC 1661)
To re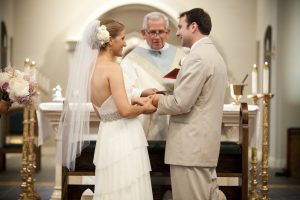 ceive the Sacrament of Marriage, at least one of the parties seeking to marry must be Roman Catholic.  To be considered a parishioner, one must be registered, active, and participating for at least 12 months prior to the proposed wedding date.  At the discretion of the Pastor, the Parish will make exceptions for the children and grandchildren of  registered parishioners who meet the above criterion.  It is required by the Diocese of Charleston that those seeking to have their marriage celebrated in the Church notify the Pastor a minimum of 6 months prior to the requested date. A preparation plan with classes will be established according to each situation.
Non parishioners are encouraged to call the parish office at (843) 768-0357 for further information.
Days on which weddings are not celebrated include:  Sundays, Holy Days of Obligation, the season of Lent, the days of the Sacred Triduum (Holy Thursday, Good Friday, Holy Saturday), the weekend of Easter and the weekend after Easter, Thanksgiving weekend, the weekend after Christmas, New Year's Eve and All Souls' Day.  Some dates may be excluded due to parish events.  Please contact the office before booking any venues.
Please click here for more contact information.