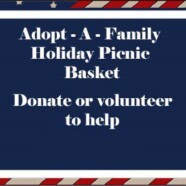 Please volunteer to help:
Monday, June 26th • 9 a.m. Unloading and Set-Up
Tuesday, June 27th • 6:00 p.m. Packing bags and carts
Wednesday, June 28th • 8:00 a.m. Loading carts and delivering
Sign up to volunteer or contact Marie D'Ambrosio at 843-303-2207.
Our grocery outreach helps over 280+ families on Johns & Wadmalaw Island celebrate the 4th of July!
By donating:
Sponsor a family's groceries. The cost for a family is $100. Cash or checks made payable to Holy Spirit. Download the form .