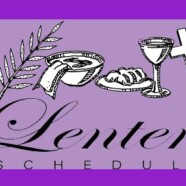 Stations of the Cross, Wednesdays, 7:30 p.m. in the church and following Daily Mass on Fridays.
Confessions: M–F 8:00 – 8:15 am, Saturday 3:50 – 4:50 pm
Additional Confession time during Holy Week: Monday, April 3 from 5 to 6:30 p.m., Tuesday and Wednesday, April 4 and 5 from 10 a.m. to Noon. No confessions will be heard after Wednesday, April 4th through Easter Sunday.
There is NO daily Mass celebrated on Holy Thursday, Good Friday nor Holy Saturday.
All Masses and confessions will be held in the Church