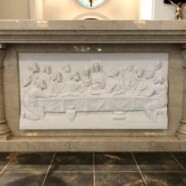 We do NOT take reservations for Mass attendance.
Our occupancy limit is 450 attendees per Mass while maintaining social distancing and other safeguards.
Please wear a face covering. If you do not have one, seek out an usher to provide one for you.
The entrance to the church is only through the front doors.
Ushers will escort you to your seat when you arrive and will dismiss row by row at the end of Mass.
Communion is brought through the pews, please remain seated and extend your arms to help maintain social distancing from the Eucharistic Minister.
A single use Order of Worship is available at the entrance, please dispose of it as you leave the church.
If you are sick or register a temperature of 99.1 or higher, please do NOT come to church.
The Bishop of the Diocese of Charleston has extended the dispensation from Sunday worship attendance to those most vulnerable to COVID-19.
Please read below the policies we have put in place: