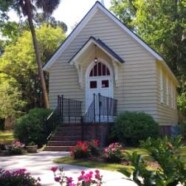 Due to the rise in COVID infections, we have returned to holding Daily Mass in the Church.
In addition we strongly recommend that EVERYONE wear a mask while attending Mass. We will continue to supply masks if needed. 
We seat every pew in the main section of the church.  However, the transepts (the pews to the side of the altar) remain available for those who may wish to socially distance themselves from others. 
The Communion procession has resumed.  If not receiving Communion, please cross your arms across your chest to receive a blessing.  It is also recommended that you receive Communion in the hand.
If you are ill or experiencing flu-like symptoms, please do NOT come to Mass.  We livestream the Sunday morning 9:00 a.m. Mass for those who cannot (or should not) attend in person.